Rock House
Hastings
A community-rooted development company transformed a run-down office block into a creative, collaborative, mixed-use hub.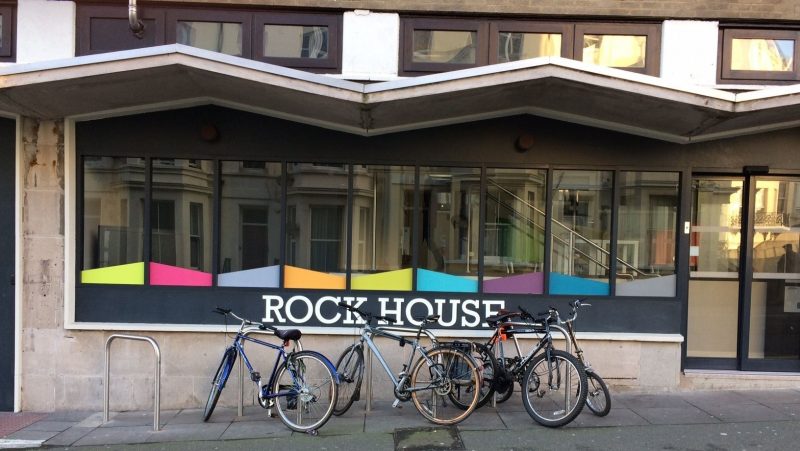 Rock House, a once semi-derelict nine-storey 1960s office block, now provides secure, capped rent homes and workspaces for local people. It is home to ten housing tenants, 44 local businesses ranging from virtual reality to music production, an NHS mental health drop-in service, and a neighbourhood kitchen working with refugees.
The project is run by White Rock Neighbourhood Ventures, a partnership between two socially-driven investor-developers – Meanwhile Space and Jericho Road Solutions – and a long-term owner, Heart of Hastings CLT.
Rock House emerged after ten years of sustained community engagement, in which 400 locals examined the risks posed to Hastings by gentrification. They concluded that something could be done to mitigate this: putting buildings into community ownership and capping the rents forever.
So when Rock House came up for sale in 2014, the two investors leapt at the chance to put these ideas into action. Over four years, space by space, the building was renovated with a mix of grant and loan funding. It is now full of tenants who are part of the development team, shaping the building and the community within it. In 2019 the Rock House team exchanged contracts to purchase the building next door.
Jess Steele, Director at White Rock Neighbourhood Ventures, said: ​"Rock House is a shining light in a darkness of commodification and exploitation that dominates the built environment of our neighbourhoods. By being successful and sustainable, we are proving that there is a better way to own and manage property – with fair rents and a good dose of ​'dweller control'."
Tags
Find out more
Further reading
Contact details
TAKE ACTION
[Take action form here]