Homebaked
Liverpool
Residents saved their iconic neighbourhood bakery and transformed it into a thriving community run-business.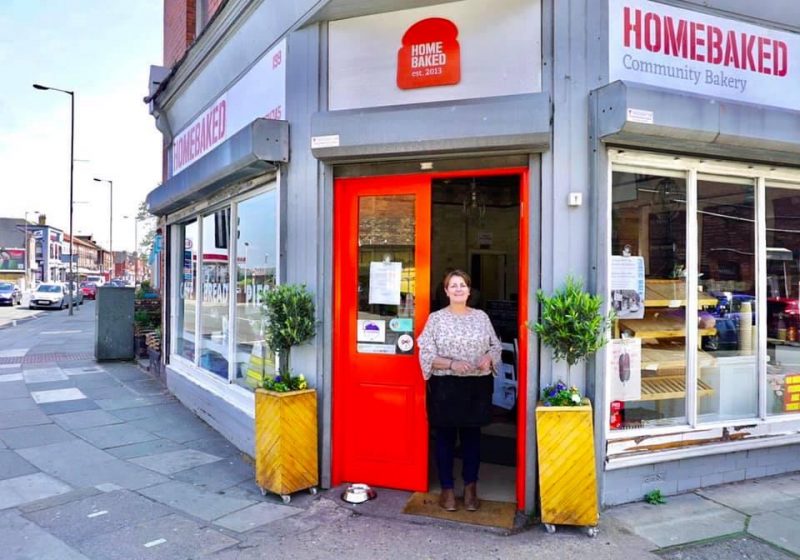 Operations Manager Angela McKay outside the bakery
Homebaked started in 2010 as a project in the old Mitchell's bakery next to the Anfield stadium. The building was one of many buildings in the area that was to be demolished as part of the government's controversial Housing Market Renewal initiative. In 2012, the Homebaked Community Land Trust (CLT) was born with the aim of renovating the bakery to create workspace for social enterprise and affordable housing.
The Homebaked Bakery Co-operative was incorporated in June 2012 by a group of local residents passionate about the possibilities of reopening the bakery in community ownership, and creating a successful enterprise with social as well as financial value.
The CLT has started on a process of designing and planning with the local residents to start breathing new life into the local area, while the bakery generates the brand and income, and acts as a hub for the local community.

"It's easy to underestimate the power of voices and it's easy to be passive, but if you just get out there and do something you can show what's possible," Cally Anne Highfield, local resident and Homebaked staff member told The Long + Short. ​"You can tear down bricks but you can't take away the stories."

Tags
Find out more
Further reading
Contact details
TAKE ACTION
[Take action form here]